Fact #1: I'm back home!!!!!!!!!!!!!!!!!!!!!!!!!!!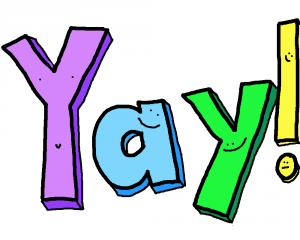 Fact #2: I haven't posted in a while (oops).
Fact #3: Kaitlyn posted her fist post!!! The three amigos are back in business once again!
Fact #4: Same as number 2.
I'll just skip to today because I want this post to be short. This annoying little window keeps popping up asking me for some password to a login keyring that I don't know anything in the least about and it is really testing my patience. Grr.
What was I going to talk about? Oh yes, Kaitlyn and Stephanie, if you're reading this, (and hopefully you are) I want to start a story creation thingiemajigster.
I know, I know, not my most professional moment, but whatever.
This is what I mean, guys: I know for sure that one day we're going to run outta things to write about for the lemonade stand, and when that fateful day comes…. (as it already has for me)
All I can say is…the end of The Lemonade Stand as we know it. We will be taken into a whole new age! The gods will bow down to us! Only the stars will shine as brightly as we will! The start of a whole new empire will awaken with the next dawn of-
Oh. Ahem, sorry. Ha. *laughs nervously* I…got mixed up. Sorry. I should…save that..for later…heh heh…what I meant to say was that we could do an ongoing story creation thing. For example, I would start a story and leave it at a certain point in a post and then someone else (tuber or steph) would continue it and so on until we decide to start a new one. What do you think, guys? Leave a comment (sure, you leave a comment too, dad). I think this'd be fun. And who doesn't like being cruel to fake people and then giving them (sometimes) happy endings?
Anyway. Keep calm. Drink lemonade. Bye-
(annoying little pop-up window problem solved and finally at rest) Daniela